Alps Lodge, Fiss: simply magical
19. February 2019
The very first moment of your arrival at the Alps Lodge is already stylish and spectacular – its car lounge has a sophisticated museal flair: Art on the walls under cool, specially conceived lighting, and generous parking spaces offer motorised guests a truly luxurious refuge at the car-free sunny plateau.
Alpine simplicity combined with cheerful elegance
From the rectilinear front of the lodge to the playful curve of its rear – in the Alps Lodge, alpine simplicity is combined with cheerful elegance. Inside, fine leather and bright wood are dominant in the expansive and relaxingly alpine Alpslounge – before the rooms and suites welcome their guests with grained woods in anthracite, brown and white, cowhides in sophisticated black and unobtrusively placed antlers. A smart Illy ensures espresso around the clock, and Playstation 4 consoles guarantee cool gaming in every room. Clear lines and classy woods set the porcelain in the bathrooms aglow. Fine bonsais conjure a relaxing touch of the far east to the hotel and garden.
Pure snowy pleasure
The breakfast brunch caters to both vegetarians and carnivores of all tastes. Omelettes fresh from the show kitchen and excellent sausage, cheese, fruit and vegetables recharge guest's batteries for the pleasures of winter sports. They await you as soon as you leave the hotel: You can get straight onto the cross-country ski tracks for snow hiking, and it is only a few steps to the valley station of the SerfausFiss-Ladis mountain cableways.
A ski pass for around 70 ski runs brings beginners and experts to the piste of their choice: on a total of 460 hectares of pure snowy pleasure. At mid-day, even superbly fit ski experts like to sit in the sun – you are warmly invited to do this by the skiing area's 19 feel-good locations. At the nicest places, fresh dishes await you, as well as chilling out on lounging furniture and hammocks.
Endless winter fun
Sunbathing before the breathtaking panorama of picturesque alpine peaks will remain just as unforgettable as fun on the Fiss' Sky Swing. Make a 360-degree roll, explore the expanses of the high plateau above the Inntal by Snow Scooter, ride the Snake Gliss – endless winter fun.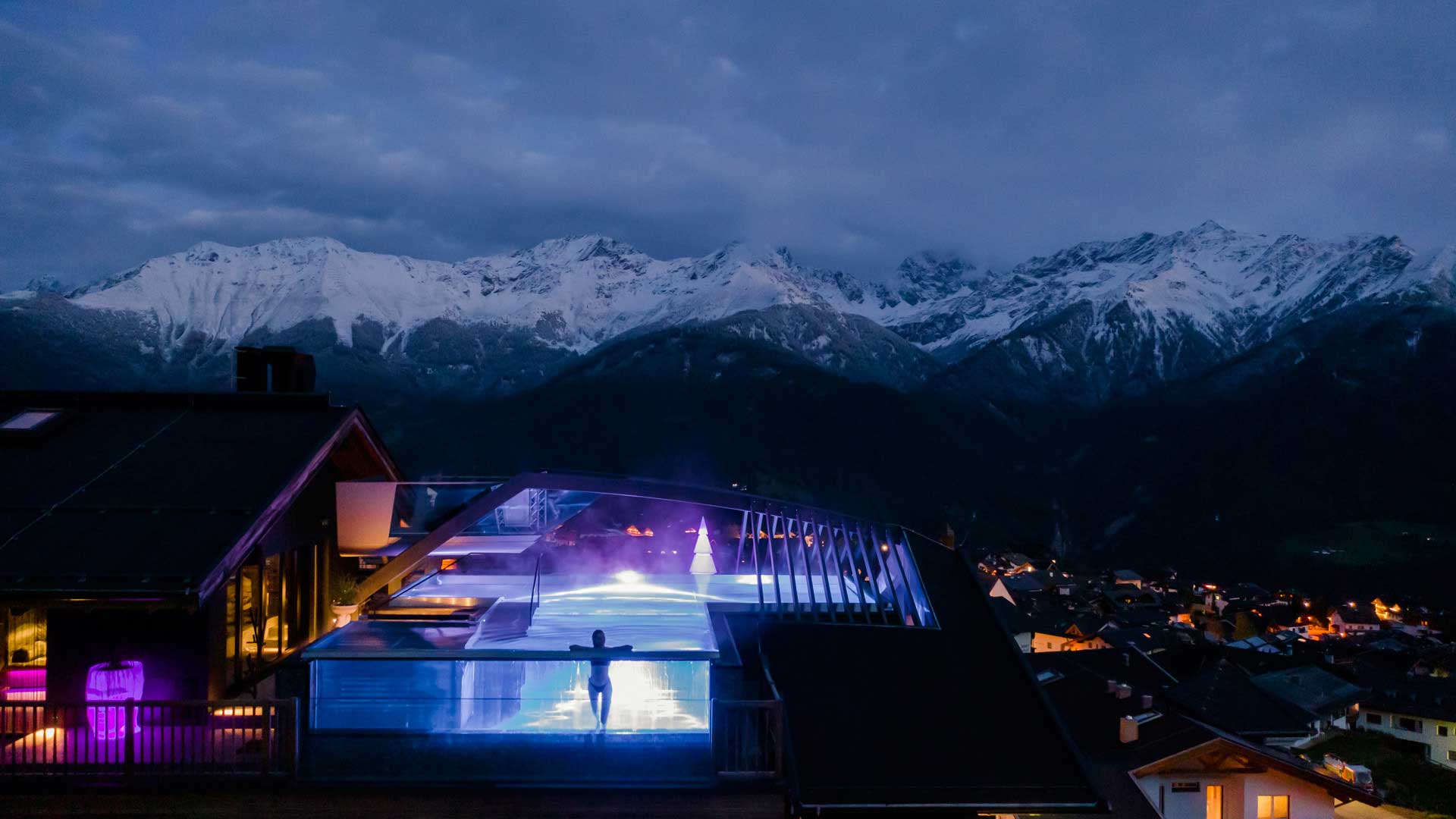 Before the après-ski, the best place to indulge yourself is in the Sky Relax Zone on the roof of the Alps Lodge. Whether you choose the sauna, steam bath or Snake Caves – deep relaxation is guaranteed.
Then the house bar Alpslounge beckons, where you can watch Sky-Sport together, or read in the fireplace lounge – and enjoy a good wine or two from Austrian vintners.
Alps Lodge is a Member of Lifestylehotels
Text: Martin Novak