Where nature and imagination run wild
If you are looking for a place far away from the stresses and demands of your daily life, the Treehotel up north in Sweden could be your ideal retreat. At Treehotel nature, ecological values, comfort and modern design are combined for an exciting adventure, surrounded by seemingly endless forests overlooking the Lule River.
The 5 rooms and 2 suites with exciting names such as "Mirrorcube" or The UFO" are designed to be a part of the spectacular nature and landscape. But each one of the secluded and comfortable rooms, located about 4-6 meters above the forest floor is unique. 6 different Scandinavian architects designed the rooms and made them as special as they could be. Of course, all of them are built and equipped in a sustainable way.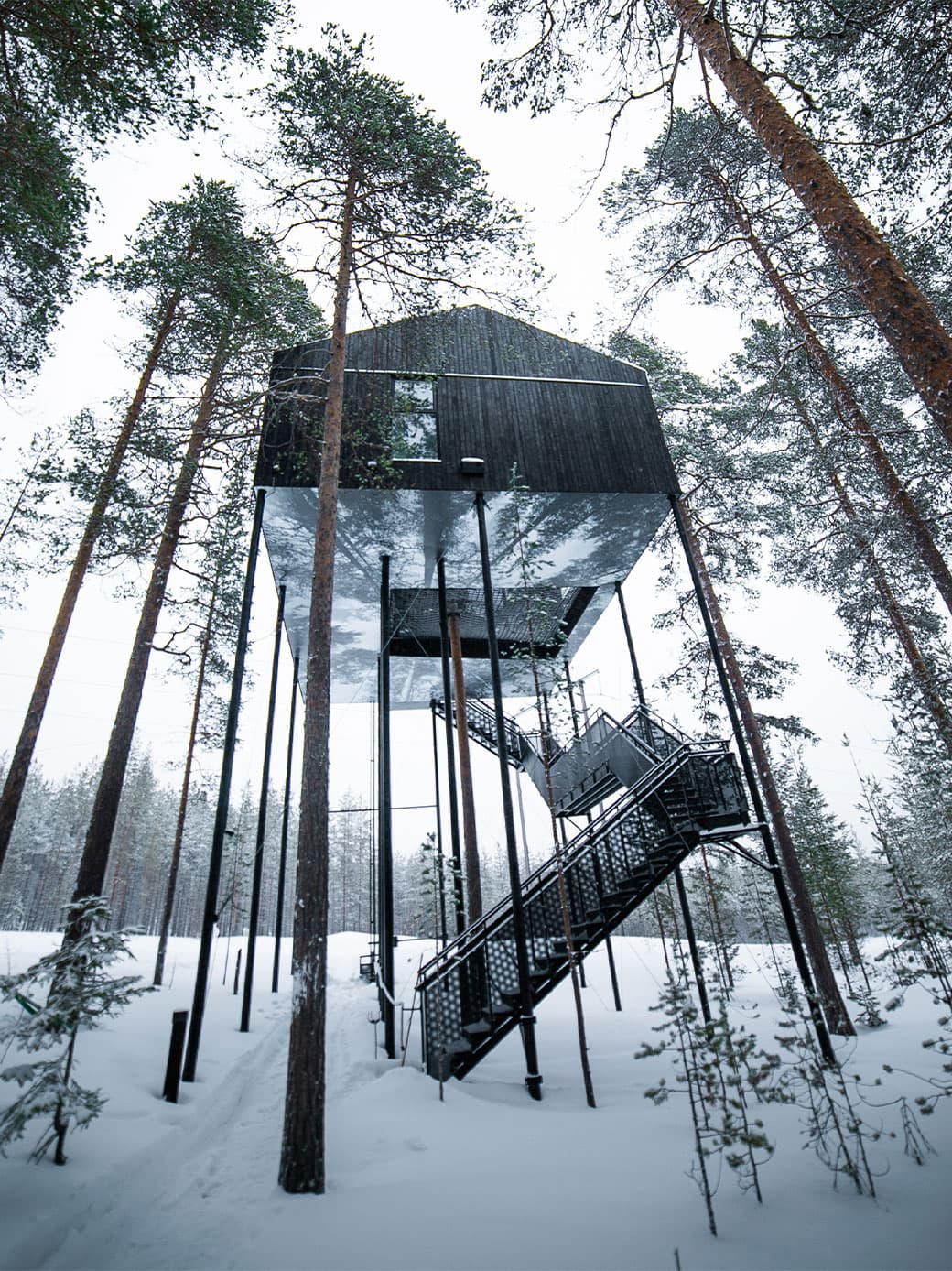 The hotel is run by locals –Britta Jonsson-Lindvall and her husband Kent Lindvall. The couple loves their home region and realized this amazing hotel idea together, welcoming guests with great hospitality. As they see also the restaurant as a significant part of being at one with nature, all kind of Swedish delicacies from the northern pantry is served – from wild game to finest hand-picked berries.
Two different sauna buildings with shower and relaxroom, one of them with a private outdoor jacuzzi, await you after an exciting day exploring the outdoors in all four seasons – whether you prefer speed and adventure or tranquility and time for reflection, the team of Treehotel offers a wide range of activities.
Best Room – 7th room
The newest suite with panaramic windows facing the river valley and skylight windows in the 2 bedrooms, offers different experience levels. Dominated by Scandinavian wooden interiors and textiles, the 7th room is particularly cosy due to the temperature-controlled fireplace that lights itself below a certain temperature on cold witnerlights. It was designed by the Norwegian company Snöhetta.