Hotel Stein, Salzburg, Österreich: Salzburg meets Venice
11. April 2019
Salzburg and Venice meet in the recently opened Hotel Stein. The new hotel is a magnificent symbiosis between the festival city and the city of lagoons.
Links between Salzburg and Venice do in fact go back a long way. Back in the late 16th century, Prince-Bishop Wolf Dietrich commissioned the Venetian architect Vincenzo Scamozzi to plan Salzburg's redevelopment, and later, another Italian architect was employed to continue work on the cityscape. They gave the City of Salzburg the features for which it is now famous around the world.
Austro-Venetian partnership
Hotel Stein is continuing the tradition of Austro-Venetian partnership in design today. Not without reason, for the long-established Venetian glass factory BAROVIER & TOSO is owned by the same family as the hotel. Guests sleep and move under lamps, chandeliers and glass artworks specially produced for the hotel, mostly in blue – in reference to the lagoon, and to the sky. The colourful materials that lift your mood and spirits come from the Venice-based textile company Rubelli.
Large-format photographs by art photographer Luigi Caputo bring the cities right into the hotel. In the bathroom, you will find products from the Saint Charles brand. Saint Charles has raised pure, natural, pharmacy-standard cosmetics to cult products, true to its "Right to the Roots" motto. The products are also available to purchase from the hotel's cool concept store.
Unique terrace on the 7th floor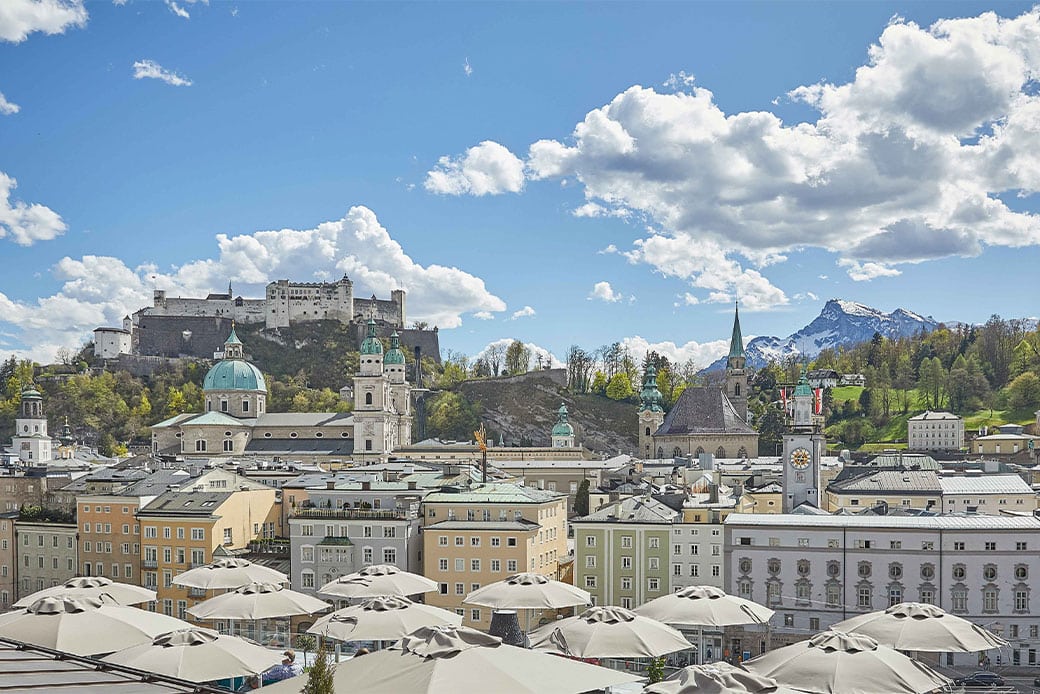 Every visitor to Salzburg should finish the day on the unique terrace on the 7th floor with its wonderful restaurant and trendy rooftop bar. Soak in the unforgettable view out over the city's rooftops – and think about Venice and the Grand Canal.
Hotel Stein is a Member of Lifestylehotels
Text: Nina Prehofer