Naturresort Puradies, Leogang, Austria: Rustic luxury
9. November 2020
A holiday in a hut evokes images of a rustic atmosphere – a four-star hotel, on the other hand, is all about luxury. You'll find both in the cosy chalets at the Puradies, where you can spend your holiday in private as a couple or as a family, and enjoy unobtrusive luxury combined with sleek, Alpine flair.
Your own little hut from which to go off and enjoy skiing and hiking – for many, that sounds like a dream. And sometimes a hut sounds a long way off luxury. It's different at the Puradies, which boasts several four-star chalets to choose from that will comfortably sleep up to six people. There's also a comprehensive range of services to make the most of, including professional childcare and a separate wellness building with a sauna, spa and much more.
Back in the luxury huts, which have been constructed in an organic way using lots of wood, you will feel an overall sense of well-being from the minute you arrive to the minute you leave. It's almost as if you were at home, but then again, nothing like it – because here, you can have your organic breakfast brought right to your chalet in the morning, so you can sit by the open fire, flick through the newspaper or let your gaze meander across the view of the Salzburgerland region. It makes for a fortifying start to the day.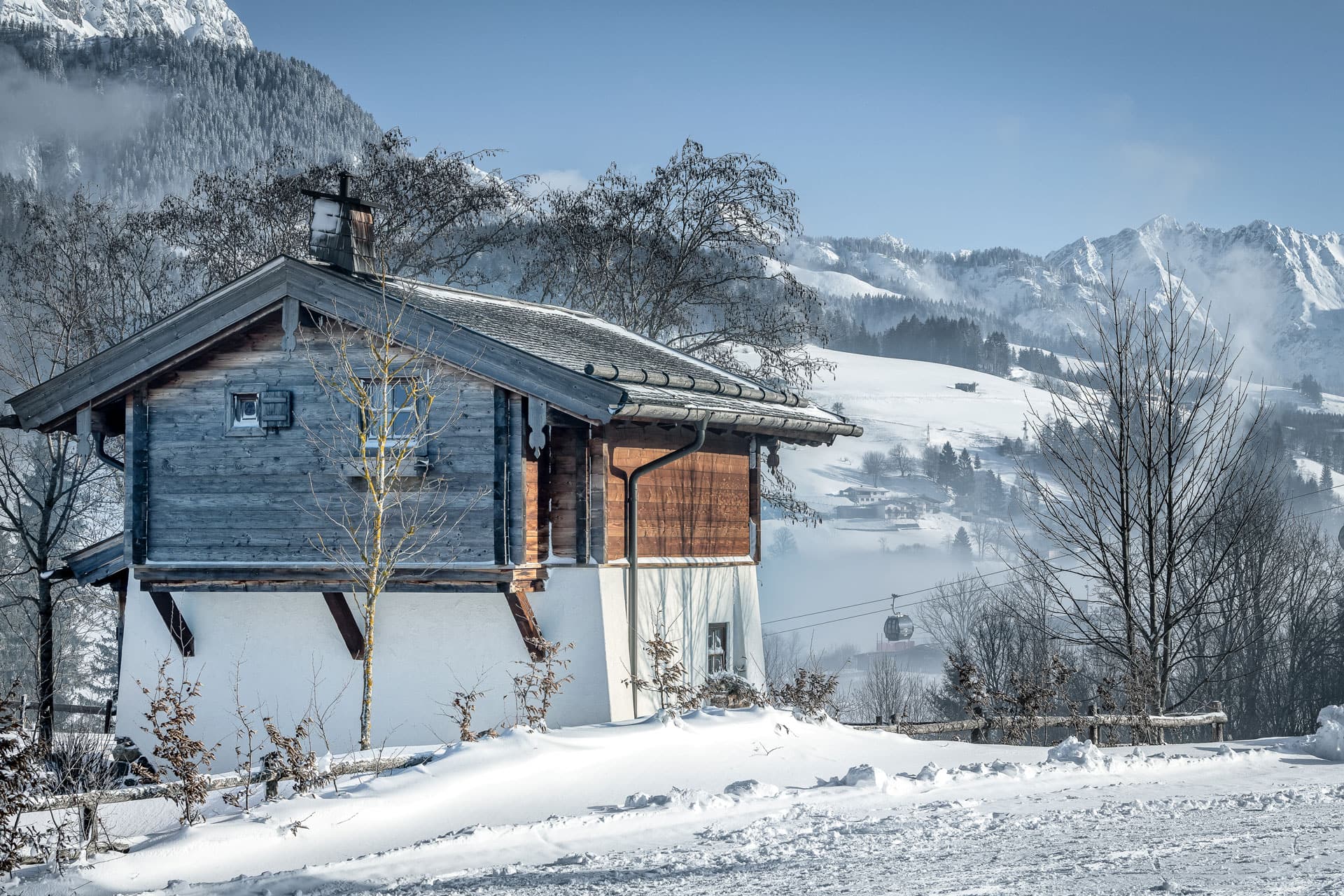 No matter whether you then venture out onto the 270 kilometres of ski runs in the Skicircus Saalbach Hinterglemm resort (remember: ski in, ski out) or would prefer a romantic sleigh ride, as long as the sun is shining, no one can resist the snowy winter wonderland that's right on your doorstep. The crunch of your shoes gently sinking into the snow, the warmth of the sun on your face, the choice between adventures on the slopes and the tranquillity of nature … The Puradies is a small slice of paradise in the middle of the immense Salzburg mountain landscape.
Pure enjoyment
As a chalet guest, you'll also be spoilt for choice when it comes to cuisine: will you go for choosing from over 300 regional products in the hotel grocers, then enjoying a glass of wine and some local cheese in your chalet, or would you rather opt for the hotel's own gourmet restaurant ESS:ENZ, which is right next door? There, you will savour natural cuisine on another level: homemade pasta, truffles, dry-aged steak, rainbow trout from Saalfelden and radish sorbet. With delicacies like these, even dinner will become an unforgettable experience.
Afterwards, why not try one of the Alps-inspired drinks with wild herbs from the mountain pastures and the forest around the hotel, served hotel bar "Freiraum". It's worth taking a closer look around, as the bar and seating areas are made out of around 16,000 cubes of oak that combine together to form a cohesive work of art that won the German Design Award 2018. And speaking of a "cohesive work of art": that would also be the best description for this spectacular location, where nature can be experienced with all of the senses and our dream of a luxury holiday in a hut comes true. It's simply paradise.
Naturresort Puradies is a Member of Lifestylehotels