Monaci delle Terre Nere, Sicily, Italy: black earth
22. November 2019
A volcano, a vision and an incredible idyll. The Monaci delle Terre Nere in Sicily is one of the most beautiful places in Italy.
A very special corner of the world that is more than worth a visit. The Country Boutique Hotel Monaci delle Terre Nere in Sicily lies between Europe's highest active volcano, Etna, and the sea. Relaxing in the hotel garden with Etna towering above you is a simply wonderful feeling. The impressive volcano is not only guaranteed to lift your spirits, it has also produced an amazingly fertile soil. Fruit, vegetables, herbs and wine: the hotel grows them all on its own farm – which is what makes the food at the restaurant, the "Locanda Nerello", so delicious.
Everything started with Guido Coffa's vision. He wanted to combine a series of agriculture plots, reinvigorate the land and let people experience the energy of Etna. Since the hotel opened in 2012, it has grown to 27 rooms, suites and villas. It is the people who make the place what it has become. The dedicated team from head chef to landscape architects create absolute beauty – doubtless under the inspiring influence of Etna.
Horse, E-bike or helicopter?
She has her guests sample Etna wines, climb the volcano, ride horses or e-bikes, and, if they prefer the view from above, even sends them up in a helicopter. Guests are encouraged to get involved in the estate and enjoy living life in the "slow lane". For example, they can help filch organic eggs from the protective hens, learn Sicilian cuisine and how to make pasta, attend yoga courses or simply explore the area on wonderful walks. For those seeking more civilisation, Taormina, Catania and the sea are all within easy reach.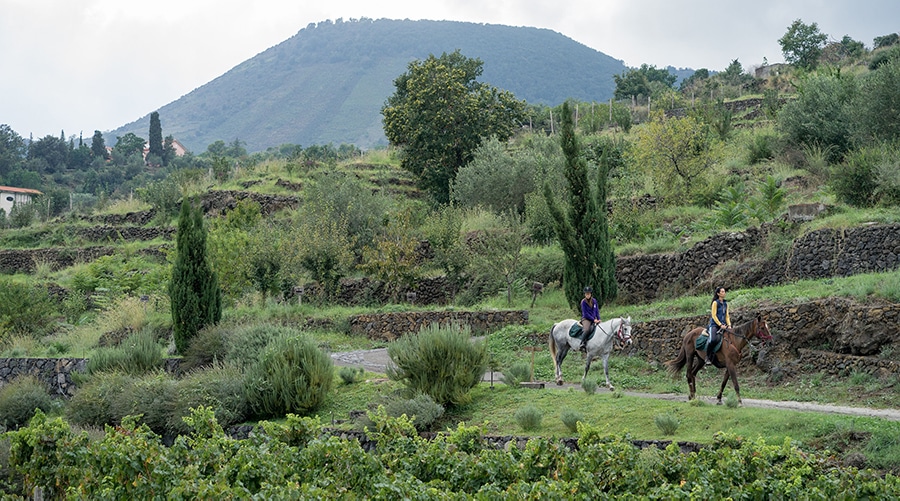 "Our guests are looking for the special, the unique, and a genuine focus on nature. They want a meaningful connection with their destination. In our hotel, they can escape the tourist trails and find peace",

says general manager Giovanna Manganaro.
Idylls from a bygone era
The estate covers a series of hills with lava rock terraces running across them. The black earth left behind by the volcano has a strange pull. Local, organic vines are cultivated in the vineyard, and everything in the fruit and vegetable patch is also organic. At the centre of the estate is the main building with its white baroque patterned stone. You can see it has been restored with great care, and it provides a charming centrepiece.

Discover the lawns and quiet terraces that border the olive an lemon groves, and end the day by slipping into the elegant pool with its sea view. You no longer need to dream: this is where dreams come true.
Monaci delle Terre Nere is a Member of Lifestylehotels
Text: Nina Prehofer